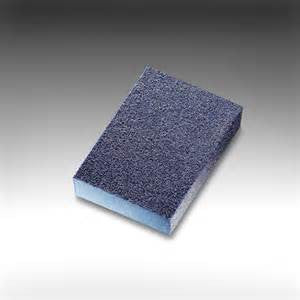 SIA
Sanding Sponge
Sanding sponge are produced by sia Abrafoam in a
continuous environmentally-friendly production process. Following
the application of the adhesive, the abrasive grit is gravity fed and
scattered onto two adjacent sides of the block or one side of a pad.
The process guarantees a perfect grit coating even on the edges of
the product. This specialized coating process ensures a flexible at-tachment
of the abrasive grits. Internal production of foam enables
the material density and therefore material hardness to be adapted in
an optimum way to market and customer requirements. This provides
outstanding surface results with manual sanding on wood, paints
and varnishes.
Dimensions: 68 mm x 97 mm x 27 mm (w x l x d)
Coating: 4-sided
Grit: aluminium oxide / blue fi red
Grit: Medium/Fine
Backing material: PU foam (polyurethane), solvent-free
Foam hardness: firm, for high removal capacity
Advantages
Highly aggressive and robust with uniform surface quality
Coated on four sides, ideal for applications in rebates and on surfaces
For use in the woodworking, paint and varnish industry
Little tendency to clog
---
Share this Product
---
More from this collection